MAGICIANS
Here is a selection of the magicians available:
ZAP - The Name To Conjure With!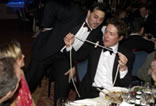 The world of magic holds a fascination for most people and ZAP has developed the art to a fine degree. He is an Associate of the Inner Magic Circle and has been awarded with a Silver Star. Zap has been performing all around the world for over 25 years. He is highly entertaining and his performance is both engaging and very interactive. His act epitomises wondrous magical entertainment for all. Truly a mystifing magician with a unique modern style of magic, which captivates and amazes his audience performing at close range: Money changes from £5 - £50 at the blink of an eye; the borrowed note floats in the air; Signed cards are found in shoes; Rings disappear and reappear in bread rolls; Pieces of rope explode and restore in a flash; Bottles are pushed through tables…and so much more.
His presence and performance define excellence. With audience participation as his speciality, ZAP leaves his guests with the feeling that "it happened in their own hands". He has entertained thousands of people in his career and in no particular order they include performing to: Prince Philip, Prince Andrew, Margaret Thatcher, Sir Richard Branson, Stelios Haji-Ioannou (Easyjet), Sir Philip Green, Tom Cruise & Nicole Kidmann, Hugh Grant, Sir Paul Getty, Caprice, Take That, George Michael, Neyo, Rolf Harris, Bill Wyman, Uri Geller, Paul Daniels, Lennox Lewis, Henry Cooper, Chris Eubank, Nigel Benn, Linford Christie, Will Carling, Sam Torrance and the Rider Cup Winners …
Your guests will be astonished as they see incredible feats of sleight of hand and witness the impossible just inches from their eyes!
Take a look at this video to see what Zap does!
"For entertainment at its highest level, there's magic in the air with ZAP" Richard Branson - Chairman of the Virgin Group
" I just wanted to let you know that it was a fantastic party and Zap made it even more exceptional. .... we will definitely book him again" - private party

Chris Priest - British Champion of Close Up Magic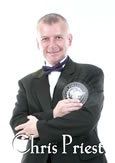 Chris Priest is a full time, professional close-up magician. He is the MILLENNIUM british champion of close up magic, and the only Magician to have been trained at the Royal Academy of Dramatic Art in London. He has worked at all the prestigious hotels throughout the country. He has performed for TV and Movie celebrities, Music celebrities, various Heads of State and members of the Royal Family. He has recently had the honour to be invited to perform his amazing magic for HM The Queen and invited dignitaries at Buckingham Palace.
Chris is very different from other close-up performers; he performs the most unbelievable and original close-up magic in his own unique style, which makes an entertaining experience you, will never forget! It is this that sets him apart and has brought him total success. He has earned the reputation of being one of the best magical entertainers in the business. ITV television named Chris Priest as "the best Close - up magician in the UK".
Chris's stand-up act is full of side-splitting comedy, intrigue and involves a huge level of audience interaction. His act has received standing ovations the world over. Chris has won numerous awards for his stand-up cabaret and close-up performances. You will be assured of star quality entertainment which your colleagues and clients will appreciate and thank you for. This means you can employ Chris Priest with complete confidence and make your event one to be remembered.
Chris's own unique style and talent leaves audiences gasping with amazement.
" Everything you did was a demonstration of consummate mastery of the tricks you selected. The whole act flowed perfectly from one trick to the next. If your ears were burning during the week it was the praise heaped upon you by our guests after they witnessed your show. Don't make it to long to come back and visit us again." Billy Mc Comb - Vice President "The Magic Castle" Academy of Magical Arts, Hollywood California USA
"... incredibly entertaining, funny, and very very professional. I would not hesitate in recommending Chris as a performer at any event." Wilma Orr - Moathouse Hotels
"Certain words spring to mind when watching Chris Priest perform, like impossible, unbelievable, funny, highly skilled and a top class entertainer. The best I've ever seen!" The Stage & Television Today
"Chris is a real star! He has really made the difference to our stand at the International Direct Marketing fair for the past two years. His wit and fabulous close-up magic have left visitors astounded and this reaction has given us the chance to meet and speak with many more customers than we would otherwise have the opportunity to do. Would we book him again?...We have!!"
Steven Day - Managing Director UKChanges from Direct Select.
Chris can offer a number of options for his show: Option 1 - close-up magic around the tables during dinner / Option 2 - around the tables during dinner plus mingling with the guests during the reception, performing mind-reading as well as the sleight of hand / Option 3 - around the tables during dinner plus an After Dinner Cabaret Spot of up to 20 minutes / Option 4 - Full Cabaret Show. Please click on this link below to see full details of each option:
Besides working extensively throughout the UK, Chris has been flown to America, Paris, Holland, Antigua, Portugal and Greece by his corporate clients. Chris is also a Founder Member and performer of SPELLBOUND the world's premier team of close up magicians and can arrange for extra Magicians if you have a large number of guests. All Spellbound Magicians are national award winning TV Magicians and the quality of their performance is guaranteed.
SPELLBOUND is the ideal solution for events that require more than one close-up magician and the performance quality of each individual magician is guaranteed. Spellbound have performed all over the world including prestigious venues in London, Paris, New York, Dubai, Zurich, Toronto, Istanbul, Las Vegas, & Sydney. Magic is fun, interactive and an extremely memorable form of sophisticated entertainment. The world leaders in this field without exception are Spellbound.
Check out Chris Priest's Showreel


Magician - Alfonso Rios

Alfonso Rios is a world class magician whose amazing skills have won him awards and recognition both from audiences and professionals alike. He is a member of the Magic Circle, Equity and The International Brotherhood of Magicians. A versatile performer, he entertains in English, Spanish, Japanese, Italian and Portuguese. His appeal is truly international, thrilling and baffling audiences all over Europe, Japan and America as well as regularly entertaining on cruise ships. Alfonso's exciting fusion of cabaret, illusion, new-flamenco and contemporary music means that he's always in demand from Blue Chip firms needing personalised acts for events as diverse as product launches, trade shows, corporate events and seminars.
Whether you want the intimacy of close-up magic or the grandeur and thrill of full scale illusion Alfonso is guaranteed to amaze and delight.
"I wanted to write to you personally and thank you for all your efforts, at short notice, to make our recent meeting a great success. … that you were able to provide such high quality entertainers in the timescales was remarkable.
Mark (the Caricaturist) and Alfonso (the Magician) were both fantiastic in their own fields and had us captivated and amused for the whole evening. ... As for Alfonso there is still great debate as to how he managed to "trick" us – and at close quarters too. Amazing!"
Fons Kuijpers
Member of PA's Management Group, PA Consulting Group

"Opposite Attraction" - Magicians - Alfonso Rios & Noora Karma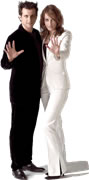 Alfonso Rios from Spain and Noora Karma from Finland offer a unique, diverse, spectacular and multicultural show. The mysteries of the cold enchanted Lapland and the hot passion of Spain have melted together resulting in an explosive Magic Show, where the combination of these two different personalities and styles will bring all possible emotions and styles of magic to the audience!They have performed all over the world and for such people as: Paul McCartney, Mick Jagger, Madonna, Prince Charles, Prince William, Will Smith & Margaret Thatcher. Performing highly skillful Manipulation, Visual Magic, Live Music, Comedy, Mystery, Audience Participation, Mind Reading, Predictions, Illusions, and their very special "Music Telepathy Act", one of the most beautiful and impressive acts in the history of magic! An act that was almost lost in time and that only a very few people in the world have ever done. Now, this young dynamic and diverse couple bring it back to life with an amazing strength and freshness.
Pure Magic, Pure Entertainment!