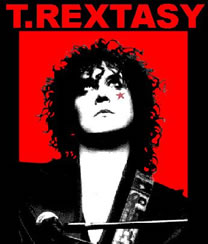 T.Rextasy, the ultimate tribute to Marc Bolan & T.Rex, made their debut on 18 September 1992 in a small club in Hackney, East London.
The venue sold out with new and old T.Rex fans, including ex-T.Rex drummer, Bill Legend. Today, of course, T.Rextasy are not only hailed as one of the highest acclaimed tribute bands on the scene, but are also known as one of the few bands that actually play without the aid of samplers, backing tapes, and wigs!
They are a real live band, and are not to be confused with any of the current cabaret style pretenders of the 'Stars In Their Eyes' brigade! This is why T.Rextasy have gained the respect from Marc Bolan's contemporaries, and have been accepted on tour with the likes of Gary Glitter, Roy Wood, The Sweet, Slade, Ian Hunter, and Status Quo. Due to the band's stage performance and attitude, and not to mention the meticulous study and choice of material, T.Rextasy are attracting a wide age group. Perhaps this is why they have not only played the Glam Rock nostalgia gigs, but also with top indie bands such as Dodgy at the Phoenix Festival, and the prestigious Midtfyns Festival in Denmark, where they appeared with Blur and Iron Maiden. In the Summer of 1997 they were also asked to appear with Status Quo at Rugen Island in Germany.
To watch T.Rextasy in concert not only demands stamina, but also a healthy pair of lungs to sing along to the rocking numbers that made Bolan the leading force of Glam Rock. After the initial impact of T.Rextasy's stage presence, and the lead singer's uncanny resemblance in voice and looks to Marc Bolan, you know that you're in for an evening's worth of Bolanic hits, played to perfection and with incredible enthusiasm. T.Rextasy play for their audience, and most of them obviously want to hear songs they know and love. Therefore, the band always include T.Rex's Top 20 hits such as: Metal Guru, Jeepster, Telegram Sam, Hot Love, Children of the Revolution, Ride a White Swan, Get it On, I Love to Boogie, New York City, The Groover, Solid Gold Easy Action, and 20th Century Boy.
More than just a tribute band, T.Rextasy are ultimately the definitive T.Rex experience of the 21st Century
"Absolutely amazing! I just couldn't believe it. When I saw Danielz on stage a shiver went up my spine." - June Bolan (Marc's widow)