SPACE BOYS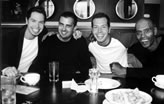 Cosmic Girl - 838KB

Tainted Love - 740KB

Teenage Dirtbag - 1,213KB


Space Boys are an exciting 4-piece covers band, with a repertoire that encompasses pop, rock, disco, dance, Motown and even punk!
Space Boys was formed by twin brothers Nick & Steve Haswell. Between them, they have appeared on many of the West End's most famous stages, performing in such hit shows as Saturday Night Fever, Mamma Mia and Grease.
Now they take to the stage in their own right, with a repertoire that stretches from the '60s to the current charts, promising something for everyone.
The band have a vast repertoire of material which allows them to adapt to any given scenario: whether it's old favourites The Beatles, Queen and Elvis, or chart hits from Cold Play, Keane and Maroon 5, they have something for everyone.
If you want 'loud and lively' they will get you up singing and dancing, creating a party atmosphere.
If you just want to listen or have them play in the background, they will set the ambience.
Whatever you want, Space Boyshave the material and experience to cater to your needs.