Solid Steel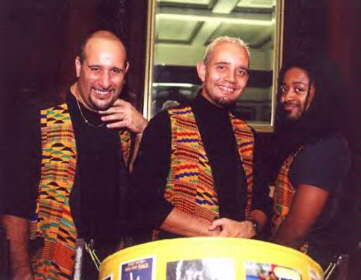 Give your party that Calypso swing with Solid Steel!

Somewhere Only We Know

Coconut Woman

The Breeze & I
Solid Steel is a professional steel band comprising some of the finest pan players in the UK today. The individual musicians' roots lead directly to Trinidad, the home of the 'steel pan'. As comfortable performing on sophisticated ballads as the liveliest of traditional calypsos, they always play the right material for their audiences at exactly the right volume.
Together for over 16 years, they are perhaps the best known steel band on the corporate event circuit. This is due in many respects to the professionalism which has endeared them to the leading party organisers. Aside from top five-star hotels like the Dorchester and Park Lane Hilton they have played for private parties, weddings, college balls, company launches, festivals and countless Caribbean theme nights.
Their reputation has been enhanced by impressive television work over the last few years, as well as a busy touring schedule that has seen them perform in Europe, Africa, Asia & the Middle East.
Available as a fully-instrumental and unplugged acoustic act or as a vocally-led amplified one, they can also perform as a duo or be augmented to play as a quartet or their five-piece band, Tropical Storm.
An all-acoustic steel drum trio featuring virtuoso pan playing on an imaginative range of traditional and modern covers
Look no further for the best in steel band music!