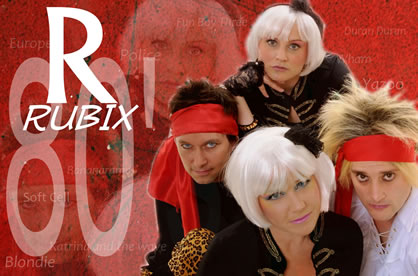 RUBIX 80s Experience brings us the best of the 1980s ... the decade of stonewash jeans, white stilettos and shoulder pads. Boys wore make-up and looked super cool. Girls thought leg-warmers the height of fashion and the Filofax was the accessory no-one could live without!
RUBIX is a high energy show that grabs your hand and leads you on a journey through pop, the big hair rock classics, punk, nu-romantic & synth-pop hits and all the school disco favourites of the 80s complete with eye-popping costumes and dance moves!
Songs from Duran-Duran, A-ha, Eurythmics, Yazoo, Madonna. Blondie, Soft Cell, Bananarama, Erasure, Communards, Katrina & the Waves, Bon Jovi plus many more!
RUBIX is available as a girl duo, trio or 4-piece band.
Shake the dust from your Frankie Says t-shirt, back-comb your hair and hold on tight to the show that travels at 88 miles per hour all the way back to the best decade in the world... EVER!