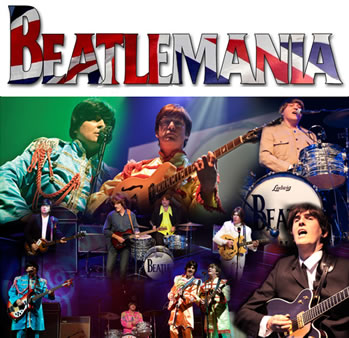 BEATLEMANIA are regarded as one of the UK leading tribute acts, playing to ecstatic sell-out audiences throughout the world and regularly appearing on television and radio.
The band, who were formed in the summer of 1992, quickly built up a huge nationwide following and since then have gained such a high reputation on the tribute scene that they are constantly in demand internationally for theatres, music festivals, cruises, colleges and universities as well as being the first choice for numerous corporate and private functions.
Beatlemania have also appeared alongside many original 60s-00s stars including:
The Merseybeats; The Searchers; The Hollies; Madness; The Bay City Rollers; Boy George; Kula Shaker; Blue; Snow Patrol; Coldplay and Girls Aloud.
Beatlemania's celebrity client list includes:
David and Victoria Beckham; Sir Richard Branson; Madonna and Guy Ritchie; Tiger Woods; Wayne Rooney; Gordon Ramsey and numerous TV & soap stars.
They have performed in virtually every country in Europe including France, Germany, Italy, Holland and Norway, and have also toured Russia, USA, the Carribbean, China and the Middle East.
Beatlemania dress in stage costumes to represent the different periods of the Beatles career including the "moptop" years (grey suits), and the 1967 "summer of love" (Sgt Pepper suits). The band also use authentic Guitars, Drums and Amplifiers to add to the atmosphere and recapture the sights and sounds of the Fab Four.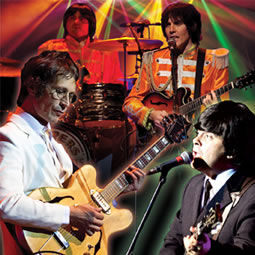 Help

Can't Buy Me Love

Hard Days Night