BAMBOLEO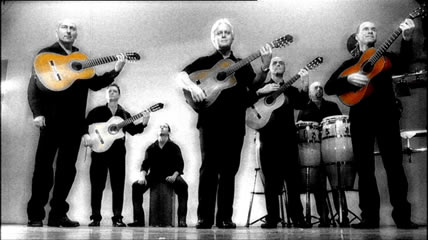 Gipsy Kings Medley 1.69Mb

Bamboleo Video Clip
The No 1 International Tribute band for the 'Gipsy Kings'
Bamboleo are the foremost Gipsy Kings Act available anywhere after the Original Gipsy-Kings. The full Gipsy Kings live tribute act Bamboleo, have been working from a UK and French base and regularly perform worldwide.
Bamboleo play the full Gipsy Kings catalogue of hits including: Bamboleo, Volare, My Way, Un Amor, Hotel California, Djobi Djoba and many, many more famous hits, all played in the traditional Spanish latin-rumba guitar style of the Gipsy Kings.
Since summer of 2008, the band have incorporated a lead singer from the Carmargue region of France, Nino Cantarell, a Gipsy from the original Carmargue Rumba families of the area.
Bamboleo recreate the unique and exquisite guitar sound of the Gipsy Kings - and as such, with a full 8-piece live act, now offer the definitive alternative to the actual Gipsy Kings.
With decades of live experience and the expertise of musicianship parallel to the Gipsy Kings, Bamboleo will delight even the most ardent Gipsy Kings fan.
They have many packages to cater for all kinds of budgets from Private parties/Weddings to larger Corporate events.
Bamboleo Band can perform with various line-ups starting with the core of 3 guitarists (including vocals):
1. Acoustic Trio – offering gentle background music. Perfect for corporate dinners/wedding breakfasts and business drink receptions
2. Amplified Trio – for livelier parties!
3. 4-Piece line up with live percussion - an excellent line up for dancing!
Extra guitarists can be added to any of the above as well as flamenco dancers in full traditional costumes!

For a fuller 'Gipsy Kings' fiesta experience they can offer 6 guitarists, 2 percussionists and dancers.
They can also offer the finest tribute with 7 guitars, live bass, drums, keyboards and percussion for the ULTIMATE rumba fiesta!
All of their amplified performances incorporate specially recorded backing tracks. This includes bass guitar, drums, keyboards; all performed 'live' by real musicians, giving the fullest live sound.
The band regularly performs before Royalty, Celebrities and Dignitaries. Some of their satisfied patrons include:
Rod Stewart (private party); Duke and Duchess of Kent; Richard Branson; Lord Archer; Bruce Forsyth (daughter's wedding); Crown Prince Abdullah of Saudi Arabia; HRH Princess Anne (Charity Awards Ceremony); HRH Prince Charles; John Travolta; David Beckham; Michael Portillo's summer party; Saga France/Italy; Victoria Beckham's father's birthday; Queen Noor of Jordan (King Hussein's widow); Princess Haya (wife of Sheik Mohamed); Frankie Dettori; NIJMEGAN Festival Holland; Queen's Day Festival, Holland; International Banking Conference Barcelona; Olympic Games performances for sponsors Macquarie Bank and 8 events for sponsor BP at Royal Opera House; VIP Indian wedding; Mykonos, Greece; Russian fashion magazine event launch Barcelona; Rasgas Oil producers, Qatar; Jodhpur, India for Bollywood wedding; Ghana 50th Independence celebrations, Accra, Ghana; UEFA Cup Final Glasgow; Lord St John, House of Lords, Westminster; Royal Albert Hall; Long Island USA; Santander Spain; Beijing, China May 2008; Wedding at - The Hamptons, USA; Chateau de Farchevill, Paris; Alnwyck Castle (Duke Northumberland); they have also performed in Estonia, Russia, Azerbaijan, Bahrain, Lithuania, Belgium, Majorca, Jersey and as the headline act on NCL and Royal Caribbean International cruise liners.