WALKABOUT & MINGLE ARTISTS
An extensive range of larger than life costumes and acts to suit all your entertainment needs! All tailored to exceed your expectations!
This group of artists have performed together for many years, choreographing high impact, hypnotic, colourful and fiery shows, entertaining audiences of all ages and cultures. Honey the 9ft Python is also the star of the show, entertaining at numerous events around the UK.
A selection of exciting shows and walkabout artists available: Fire Show, Stilt Walkers, Living Statues, Snake Handler, Glow Show, Angle Grinder Show - below is a selection of their shows to choose from:
As well as the ones shown here, there is a varied selection of characters on stilts available to meet 'n' greet or mingle with your guests. There are many themes to choose from - so take a look at the pictures by clicking on the camera icon above.
There are many walkabout characters to choose from - again, to meet 'n' greet or mingle with your guests. To see just a few, click on the icon above. Or Click here for a video demo

Fire Show & Dragon Eye Fire Show
This show is performed by a group of highly trained (not to mention highly insured!), pro-technicians. Each artist, a true master with his or her own pyrotechnic paraphernalia.
They use contemporary inspiration and the element of fire is presented in a multitude of forms to create our unique blend of light and dance.
Many exciting fiery tools and fire techniques are used in their shows like fire eating, spinning & twirling and, of course, the good old fire breathing. They use a variety of fire toys like: poi, staffs, fire fingers, fire swords, fire fans, fire skipping ropes, fire dress / clothing and much, much more...
See more picture in the Gallery

Or Click here for a video demo

Snake Handler / Belly Dancer / Walkabout Act / Moroccan Musicians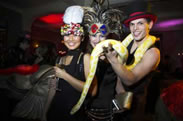 The snake walkabout lasts for around 45 – 1 hr. The guests have a chance to interact with 'Honey' the snake, ask questions, take pictures and hold her if so wished. This act is available with a female / male snake handler. Honey the snake is pure honey in colour and personality. If you are wanting to find out how daring your guest are, this may be the way to go. They can supply Polaroid's for your guests so they can take away the experience. Please ask about this option when making your enquiry.
If the female handler is chosen, she can also perform a solo 10 minute belly dance as an additional extra.
To perfectly enhance this option, why not add Moroccan themed musicians. This will tie it all in very well - from duo or more, they would perform 3 x 30/40 minute sets.
Click on the icon and scroll down to view more pictures


Living Statues are the living and breathing art that add style with their perfect stillness and exquisite make-up. They look just like part of the decoration (available in all colours), secretly choosing their next victim to play on. What most people don't expect while looking closely at what they think is a genuine piece of art, is for it to subtlety move, smile, wink then be generally cheeky! Causing plenty of surprises, some Olympic jumps, squeals, laughter and best of all, great photo opportunities!
Click on the camera icon to view more at the Gallery

UV / Light / Glow shows are spectacularly colourful and hypnotically beautiful. For best effects, this is usually performed in a dark environment. Its a great alternative for any event where the use of fire is inappropriate due to safety restrictions or lack of space. Click here for a video demo

These performers really do push their performance equipment to the limit! With live angle-grinders creating the most stunning effects to rhythm.
This shower of sparks is great to add on large choreographed shows as finales and encores, or alternatively (coming soon) it can be performed as a main show.
Spark Shows are also very popular in nightclubs as free style acts. Two of these gutsy guys will be enough to blow your crowd away!