LOOKALIKES
See below for a selection of some of the lookalikes available - if you don't see what you want, give us a call anyway as we have more available:
Del Boy & Patsy
The best interactive lookalikes known.... Maurice is the best known lookalike in the UK, previously voted top male lookalike and over top lookalike in the UK, with many TV appearances to his name. He doesn't only have the look of "Delboy", but also the voice. He will mingle with guests as "Del Boy", telling gags, using props and interacting with the "punters" to get laughs they will not forget.
He also works with Sue as "Patsy", who was previously voted top female lookalike. They wil enteratin and abuse (Patsy's speciality!) by means of jokes & props, never slipping out of character.
A proven "Absolutely Cushtie" ice breaker for any event!
Laurel & Hardy
Both were ardent Laurel and Hardy fans, and they independently set up an act as a tribute to them. They decided to join forces after stumbling over each other while rummaging around the second hand shops in Brighton looking for bowler hats. It sounds like a Hollywood story but it is absolutely true. The have now established themselves as the top Laurel and Hardy look a likes in the world.
They are not only available for all the usual functions and promtions, but also offer far more than the usual meet, greet and mingle, and in addition can provide their Model T Ford, piano and double bass for hire to enhance the experience.
Hagrid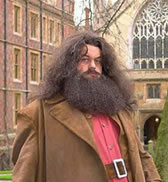 A wonderful "lookalike" & "soundalike" portrayal of the gentle giant, Rubeus Hagrid, from "Harry Potter". He looks and sounds just like the original! Other Harry Potter characters also available.