Caricaturists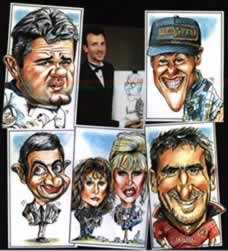 Mark Tabbener, whose work is pictured above, is just one of our selection of top caricaturists.
Mark's speciality is working "on the spot" at social or business events, but he also undertakes commissions, working from photographs. Ideal for corporate presentations, Christmas cards or presents.
Each "on the spot" caricature takes approximately 4 minutes working seated or 5-6 minutes working standing or wandering around, is accurately observed and never cruel unless requested!
"I wanted to write to you personally and thank you for all your efforts, at short notice, to make our recent meeting a great success. … that you were able to provide such high quality entertainers in the timescales was remarkable.
Mark (the Caricaturist) and Alfonso (the Magician) were both fantiastic in their own fields and had us captivated and amused for the whole evening. The quality of output (and quantity) from Mark was incredible; we now have our own mini display of our caricatures in the office."
Fons Kuijpers
Member of PA's Management Group, PA Consulting Group