Toastmaster / Master of Ceremonies
Make your event one to remember and add that special touch to your wedding, corporate event or private party - book a Toast Master!
The skill of the Toastmaster is being able to ensure the function runs smoothly, to time and is enjoyable for all present.
The Toastmaster is employed at a function to assist the organiser with knowledge on etiquette and procedure.
One of our Toastmasters: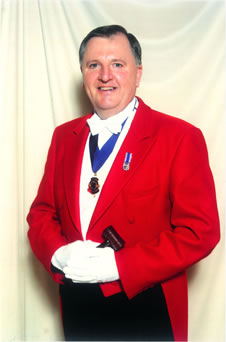 An established Professional Toastmaster & Master of Ceremonies (a member of the London Guild of Toastmasters) with a great deal of expertise at weddings of different religions and cultures. His aim is to see that your wedding reception is well managed and enjoyable without the need for formality should you not require this. Dressed in a traditional red tailcoat he will promote a friendly atmosphere, which contributes positively to making your special day one to remember for the bride and bridegroom, your families and your guests.
Services which can be provided:
* Greet the Bride & Bridegroom             * Announce informal wine toasts
* Receive the guests and guide them to the reception             * Circulate the guest book during the meal
*Organise the receiving line            * Announce and give due ceremony to the cake cutting
* Announce the guests             * Introduce the speakers for speeches, respones & toasts
* Assist with photographs             * Have bouquets & gifts ready to hand
* Call attention to seating arrangements             * Read out cards & messages
* Announce and escort the Bride & Bridegroom               * Announce Bride & Bridegroom retiring from table
* Announce and say grace            * Act as MC to commence dancing
* Make any pre-meal announcements
"Robin (the Toastmaster) was equally amazing and his timings throughout the evening were so precise and kept the flow going perfectly... Thank you so much for what was a fantastic day!" - Charlotte & David Jones' Wedding