Solo Vibes
Vibraphone Player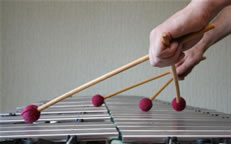 Sunny Side of the Street 3.28Mb

I Can't Get Started 4.26Mb

Fluffy Pink Penguins (own composition) 2.97Mb

Paul's repertoire covers a range of styles from the early days of jazz, through popular songs by Gershwin and Cole Porter, to some more modern numbers. It also includes a number of his compositions - if you want a personalised tune for a special occasion, he can even compose something for you - please ask about this service when making your enquiry.
He has played in a number of jazz groups, large and small, including the Steve Gorman Dance Band, in some top nightclubs. But now goes out as a solo artist.

The emphasis in his music is on creating a sound that is pleasing on the ear, so that people can enjoy listening, but the sound of the vibes can also provide excellent background music on occasions when people want to chat.
Give your event some good Vibes - with Paul Cockayne!