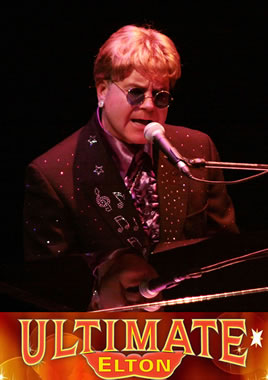 Some tribute artists look like their idol, some sound like their idol, but Ultimate Elton does both!
Quite simply he is the closest vocally to Sir Elton that you will hear - an amazing Elton John Tribute.
A lifelong Elton John fan, he first started singing and performing Elton's songs whilst studying Performing Arts at University in the early 1980s. With an extraordinarily similar singing voice to Sir Elton's, he is able to draw on an amazing back catalogue of hits to produce a truly wonderful celebration of Sir Elton's music and has a wealth of experience appearing in clubs, pubs, restaurants, hotels, weddings corporate and charity events.
Performances also feature some of Sir Elton's actual clothes, bought from his 'Out the Closet' sales!
"Ultimate Elton" is available solo, incorporating backing tracks for a full band sound with live vocals, or alternatively with his four-piece band The Rocket Band (providing a fully Live sound with drums, bass guitar/backing vocals, keyboards, lead/rhythm guitar, lead vocals, backing vocalist). Using the highest quality PA, they perform all of Sir Elton's greatest hits.
As a solo act or with "The Rocket Band", Ultimate Elton can perform sets of up to 2 hours.
With costumes to reflect Elton's flamboyant stage presence and style, plus more glasses than Specsavers, this show is a must.
Ultimate Elton presents a fun-packed evening for music lovers of all ages.

Medley

Candle in the Wind

Your Song

Ultimate Elton with "The Rocket Band" Promo Video
"Thank you so much for appearing at my golf classic. Knowing Elton John, I was amazed at your performance; it really felt as though we were watching the real thing, you were so convincing in every way. All my friends and guests were highly entertained. Your show really finished the night off for us. Congratulations and again many thanks." Russ Abbot
"Just wanted to say what a great night we all had at Stoke Park on Thursday night. I thought you were fantastic and loved singing with you. So many people came up to me and said that they loved it. Having sung with the 'Real Elton', I have to say that it doesn't get any closer than your performance! I certainly wouldn't hesitate to recommend you." Bobby Davro
"So many people have said to me that you would have thought that the real Elton John had come along to the event. You look and sound exactly the same as Elton and would definitely book you again as you are just as entertaining as the real thing but without the tantrums…I think that Elton would be very proud to see you doing a tribute to him, as you do it in a very professional and convincing way..."

"What can I say about his Wycombe Town Hall gig last night other than He WAS Sir Elton, playing in a party atmosphere. Brilliant! He will go far. One more thing to do before you die - see the Ultimate Elton!"