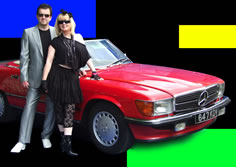 The Fabulous '80s Duo!

Two & 80's perform a spectacular tribute to what was known as the party era. Re-live all your favourite '80s classics from artists such as Madness, Blondie, UB40 and Michael Jackson.
With authentic lead vocals and stunning duets, let Two & 80s take you back in time and turn your night into a memorable '80s revival - one of the greatest decades for music.
They perform 2 x 50 minutes sets of Two & 80s or you could mix things up and have the option of two contrasting sets with either their "Blues Brother Soul Sister" or "Boogie Heights " duo shows - this would give you 2 x 1hr shows.
Relive the '80s with the fun of Two & 80s!

Heart of Glass

Billie Jean

Up Where We Belong

Running in the Family
Back to Blues Brother Soul Sister