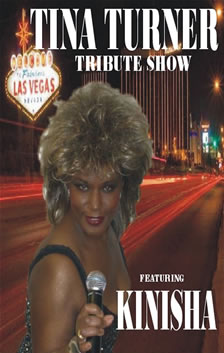 The Heels, The Fishnets, The Strut, The Lips and The Hair are back on stage!

Steamy Windows 971Kb

Nutbush City Limits 731Kb

Simply the Best 101Mb

Capture the moment as Kinisha delivers a vibrant, energetic, pulsating show, emulating the sounds of the greatest ever female Rock Legend.
Some performers 'work' their audience - this oneworks 'with & amongst' her audience. She starts to develop the atmosphere before her heels even appear on stage and captivates her audience the second she steps onto the stage.
She can adapt to every occasion from intimate dinner dance, night club, hotel, bar diner, private function, wedding or holiday village. In fact, any venue or event where you want your guests to be enjoying themselves - dancing, listening and singing along to well know hits - from the early Tina era to the upbeat favourite hits of the 90's. This act will be tailored to meet your exact requirements. Her reputation as a top class, polished performer is chronicled and in booking her you can be assured and confident that you are engaging an exceptional performer who is guaranteed to provide nothing short of a fabulous evening's entertainment.
Her performances have taken her nationwide to a host of venues. She is vibrant and seductive, creating an atmosphere so electric that you just know this woman is enjoying a love affair with her audience.

Close your eyes and "Tina Turner" is right there - Let your imagination roam as her powerful voice belts out those favourite Tina hits.
Kinisha can perform her show as a solo artiste or as a 5-piece band.
Quote from THE STAGE – Newspaper for the entertainment industry
"……. She has the voice, the mannerisms, spoke convincingly and whipped up a storm with 'Simply the Best' Backed by a splendid band"
For the next best thing to Tina, turn to Kinisha – She IS Simply the Best Tribute to Tina Turner