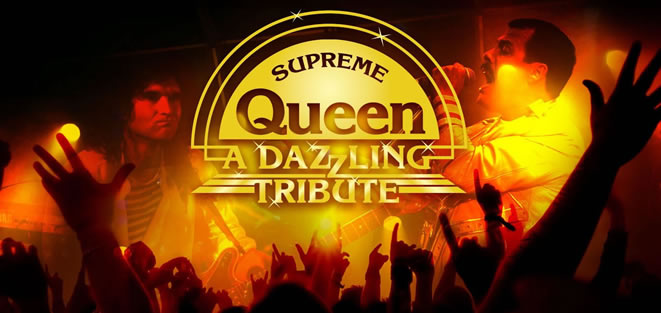 Repertoire

Under Pressure (live)

Supreme Queen - The Ultimate Live Queen Tribute Band
Supreme Queen have epitomised the power and uniqueness of what is the "Queen" phenomenon.

So if you are looking for a Queen Tribute show to remember, be it at an arts centre, Leisure centre, theatre, arena or festival, look no further.
Their ethos is to recreate the Queen 'live experience' by making shows as authentic as possible using accurate costumes, instruments and by performing live concert versions of the songs.

They have been performing since 1995 and the band has gone from strength to strength and is now regarded by many as the UK's Number One Queen Tribute Band.n They perform and top the bill at many prestigious venues including major theatres, concert halls and festivals throughout the UK, Europe and Asia.

Highlights for the band include headlining the year 2000 International Queen Convention, playing to 10,000 people on the Beach at St. Tropez for the famous H.O.G. Rally, topping the bill at 2 sell out shows at the Mediterranean Conference Centre in Valletta, Malta and a quite stunning trip to Singapore. In Singapore, they played the Hard Rock Café which was basically a warm-up show put together for the press and then a second night saw them headlining at the incredible Suntec City Convention Centre. It was a wonderful experience and the group fell in love with both the country and its people.


"What an outstanding reproduction of an outstanding band. Supreme Queen has captured the heart of one of England's greatest bands." - Birmingham Evening Mail
"Supreme Queen must be in the front line of the regiment of Queen bands, fronted by a Freddie Mercury lookalike who captures all the charisma of the late and great man." - The Stage
"The Show Must Go On, and it does….Supreme Queen." - Central TV