So Sinatra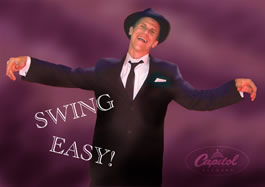 The totally authentic sound of So Sinatra - he is Frank Sinatra!
A long term fan of Sinatra, he has mastered "The Voice" and performed as "Frank Sinatra" througout the UK, Europe and as far as Dubai. Regarded as the true Sinatra impersonator, he bears more that a passing resemblance to the great man himself. He has a natural gift for mimicry of sound and harmony - which he uses to full extent with So Sinatra.

Fly Me to the Moon (1.05Mb)

Witchcraft (2.52Mb)

I've Got You Under My Skin

I Get A Kick Out of You
So Sinatra is available in a number different formats:
Solo
With the highest quality backing tracks of the original orchestrations you could be (and many are) forgiven for believing you are listening to a CD. From lush sensitive ballads and torch songs, through the exquisite Jobim collection to the 1960's Vegas swaggering show stoppers, this show can be tailored to absolutely any event. Perfect for Drinks Reception, Dinner or Cabaret.
4-piece Band
Piano, Bass, Drums and Sax/Flute plus "Frank"
This is the most popular Band Option due the cost and size flexibility. All the most popular tunes are played by this Swinging little combo. Lighter and more intimate in sound than the Big Band options, having only one brass instrument.
5-piece Band
Piano, Bass, Drums, Guitar and Sax/Flute Vibes plus "Frank"
Latest and maybe the coolest combination recreating the fabulous touring band Sinatra took to World Capitals in the early 1960's and recorded 'Live in Paris' in 1962. The arrangements have been painstakingly transcribed from the original recordings and played by some of the UK's top swing/jazz musicians.

A real, full band alternative to the Big Band options, but small enough to fit most venues.
Big Band
For l arger weddings, corporate functions, charity events and open air concerts, they can deliver big style with the Big Band - in all combinations from 11 to 17 musicians.

The best Big Band in town with authentic and original arrangements from Nelson Riddle, Billy May, Count Basie and Quincy Jones. There is nothing quite as exhilarating as good Big Band on full tilt especially with "Frank Sinatra"up front.
So Rat Pack
Due to the resurgence in popularity of the genre, helped by Robbie Williams and London's Rat Pack live from Las Vegas show, the Rat Pack are just as popular as they were half a century ago. On the surface it seems there are now a plethora of 'Rat Pack' acts to choose from and it's more important than ever to find the right one for you.

For many the choice is easy, for connoisseurs and true fans of the original Rat Pack and their music however it can be a minefield choosing the right act for your event.

So Rat Pack ("Dean Martin" & "Sammy Davis Jr " impersonators in addition to "Frank Sinatra") recreate the magic and the sound of the originals. They bring the Rat Pack back to life with performances to cherish.

The show features classic songs from all periods of the guys' careers, including the ever popular One For My Baby, New York New York, My Way, What Kind Of Fool Am I, Mr Bojangles, King Of The Road and Everybody Loves Somebody.

So Rat Pack's Repertoire consists of the finest 'Rat Pack' numbers. So Rat Pack is available with either playback, quintet or big band options as above.
When Frank, Dean and Sammy get together the night is sure to swing!
Frank and Bublé Show
So Sinatra is also available with Might Be Bublé to perform a "Frank Sinatra" and "Michael Bublé" tribute.
Come Fly with So Sinatra and make your night one to remember!