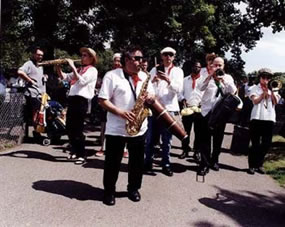 Paseo Malanga have been celebrating the music and colour of the Santiago de Cuba carnival since 1993.

123 (Comparsa) 6.62Mb

Cha Cha Cha 9.14Mb

Textile (Comparsa) 5.51Mb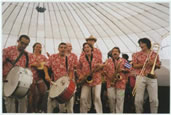 They play the rhythms and melodies of the traditional 'Paseo' (costumed street bands) with trumpets, saxophones, trombone and percussion.
They have played and paraded at gigs for parties, weddings, festivals and carnivals all over the world. From the Stoke Newington Festival in London to headlining the Rain Forest World Music Festival in Borneo! From Finsbury Park Rise Festival to the fiestas of Santiago de Cuba, they are full of energy and humour, and love playing for any audience.
They have worked with members of the Congas Los Hoyos and San Pedrito as well as members of Paseo La Placito and the Cuban Music Theatre Group Estudio Macuba and the son group Sonera La Calle.
Paseo Malanga began as an open music workshop under the wing of the Cuba Solidarity Campaign in 1993.These workshops culminated in a costume parade (at carnival time in Santiago) along Oxford Street. They subsequently introduced the Conga Parade to regular street events such as the Clerkenwell Festival, Stoke Newington Street Festival (this is still a regular highlight of their year), Brighton Festival and the Burning of the Clocks Parade along Brighton seafront, various events for Cuba Solidarity as well as Latin Clubs and parties across the country. As their sound developed more towards a typical Santiago 'Paseo' of full horn section and rolling conga percussion, 'Paseo Malanga' set about refining their set which now includes classic congas such as 'Flores','Mirala Que Linda Viene' and 'La Chambelona' as well as other parading tunes such as the 'Timbalada', a samba reggae by Olodum and a conga-cha.
They continue to parade and play at events as diverse as the RHS Flower Show at Hampton Court Palace, the Respect Festival in the Millennium Dome and Notting Hill carnival.
Inject some fun and culture into your event - book Paseo Malanga!