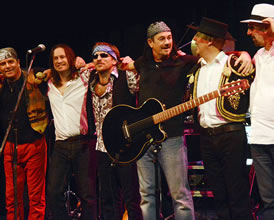 What makes Oye Santana so good? Awesome guitar, as passionate and exciting as Santana himself, plus the band's infectious good-time feel – every track a fiesta, every performance a show.
"Oye Santana" have a treasury of more than four decades of Santana catalogue to draw on, and every number in their set is a gem in its own right. Then there's the musicianship - this really is a feast of musical talent.
Oye Santana recreate the original Santana arrangements of the big hits that you know and love to bring you the true Santana sound. But playing the right notes is only a start. There's much more to being the Best Santana Tribute in the World…
There's the passion. Carlos Santana's guitar playing is instantly recognizable, not just because of his tone or his trademark licks, but because of the emotion he puts into every note he plays. Oye Santana has that covered. And there's the good-time feel. They've got that covered too.
Oye Santana can perform as a 5-piece or 6-piece show, with the addition of their female vocalist - and for a totally live experience, the full 8-piece line-up.
"Close your eyes and you can't tell the difference" - St Ives Guildhall
"From the very first enquiry to saying goodbye after the gig, Oye Santana are ultimate professionals. Not only that, the band are superb… brilliant show, stunning musicians who faithfully recreate the sound and atmosphere of Santana. They are all extremely nice guys too. I cannot recommend them highly enough. If you are looking for a Santana band, you have just found the very best." Robert Sas, Organizer, Ley Hill Beer Festival
"...you guys were absolutely fantastic… great atmosphere… lots of dancing ... Brilliant musicians, brilliant energy and lots of fun." Jagz Club, Ascot
In 2014, Oye Santana wanted to create something that was a fitting tribute to the Brazil World Cup, so they turned to two musicians who epitomise the music of Samba, Salsa, Bossa etc. They are, of course, Sergio Mendes and Carlos Santana. Oye Santana have taken one of Sergio's more famous songs, "Mas Que Nada", and given it the Carlos Santana treatment. They are very pleased with the final product and hope you enjoy it too!

Mas Que Nada
With Oye Santana, you'll be singing, smiling and dancing along from the first chink of tambourine to the get-up-and-boogie finale!