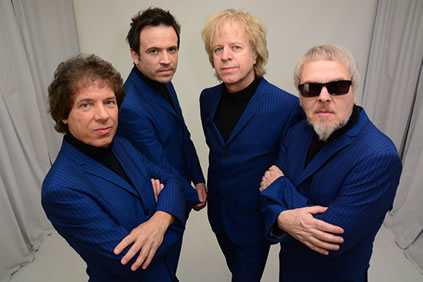 The Overtures are the UK's finest Sixties tribute act

The Overtures Audio Demo

The Overtures Repertoire

The Overtures Gallery
Looking for the perfect band to make your event really swing sixties style? Then "The Overtures" is your perfect choice!
Formed in 1989, The Overtures present a faithful and dynamic tribute to pop's greatest decade. The Overtures are a 4-piece line-up, consisting of bass/lead vocals, drums/vocals, guitar/lead vocals and keyboards/vocals.
They are firm favourites on the private party and corporate event circuit, performing for the likes of Sir Paul McCartney, Elvis Costello and Diane Krall, Chris Difford of Squeeze, Kenney Jones (ex of The Who and The Small Faces), the annual Liverpool Beatles Convention, the Cavern Club and many, many others too confidential to mention.
Sir Elton invited the band to entertain at a party thrown to celebrate Lulu's 60th Birthday. Many of the musical legends present were at one time or another coaxed on to the stage to perform with the band. Sir Elton also sked the band to support him at his New Year's Eve show at The O2 Arena in London! The band performed a 40-minute set to 17,000 people in a show that included Will Young and Alexandra Burke.
The Overtures have played three sell-out shows in Las Vegas where they performed their theatre production, "The Bootleg 60s Sight and Sound Show" at the Suncoast Casino. The band subsequently returned to the US for a further four shows at The Orleans Casino to standing ovations. They continue to tour with this successful theatre show.
The Overtures have appeared on live television, first in Germany, where they provided backing for Robin Gibb, Peter Noone and Chubby Checker, and then in Majorca, for the German TV show Wetten Das, performing with the American music legend, Lionel Richie, seen live, by countless millions.
The Overtures present a faithful and dynamic tribute to pop's greatest decade. With their magnificent repertoire of over 400 songs, they have rapidly built their reputation as the finest 60s tribute band in the country. You'll hear every aspect of sixties music from the early 'Merseybeat' of The Beatles and The Searchers through to the 'surf' sound of The Beach Boys – the rhythm and blues of The Rolling Stones to the folk-rock of The Byrds and The Mamas and The Papas – the close harmony of Simon and Garfunkel to the psychedelic power of Jimi Hendrix.
Whether you are a 'Hippie', 'Mod' or 'Rocker', as Sergeant Pepper says ... "A splendid time is guaranteed for all!"!
"They're just the best band of their kind in the world" - Elton John - GQ Magazine
"...pure energy...quite simply the ultimate 60s group..." - Billy Heckle - Cavern City Tours, Liverpool