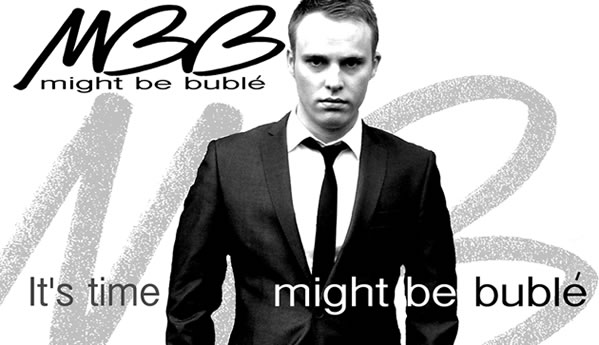 Incredible Sound-alike!
Solo & Big Band
The Specialist
The Tribute
From the first wave of Bublé records which set his own instantly recognizable stamp on classics such as 'All of Me' and 'I've Got the World on a String' Michael Bublé has gone on to achieve massive popularity in mainstream pop.
Many tributes have jumped on this Canadian band wagon but few are of the right age, or have the look and physique or, more importantly, have managed to capture the subtle phrasing pitching and delivery that gives the magically unique "Bublé" sound.
" Might Be Bublé" is the hottest new kid on the Bublé block and able to deliver the unmistakable "Michael Bublé" sound second only to the man himself. Whether an intimate penthouse dinner, over drinks with piano or backing tracks to a large function or open air festival with big band, this guy delivers!!
Available with high quality backing tracks, small and big band, he can perform sets of either 1 x 60 or 2 x 45 minutes
Self contained up to 150 people or with third party sound and light

Also available with So Sinatra for the 'Frank and Bublé Show'.
Might Be Bublé has Got What it Takes to make your event Swing!