La Dolce Vita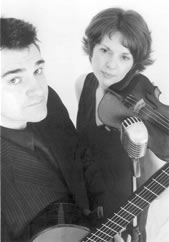 Perhaps (2.22mb)

Mas Que Nada (2.73mb)

Stomping at Decca (1.36mb)

Java Jive (3.62mb)

Wave / Quiet Nights (3.34mb)

I Can't Give You Anything (2.59mb)

My Funny Valentine (1.67mb)

Formerly resident at the Langham Hilton Hotel London, La Dolce Vita are a versatile duo comprising guitar, vocals and violin.
Happy performing acoustically, with their own PA as a self-contained act, or "strolling" and taking requests, they are inspired by a variety of musical genres presenting a medley of styles from classical and gypsy to jazz and popular.
Highly experienced, professional performers, La Dolce Vita are available for private parties, receptions, functions, weddings, launches and conferences etc., providing a wide repertoire suitable for all events and venues.