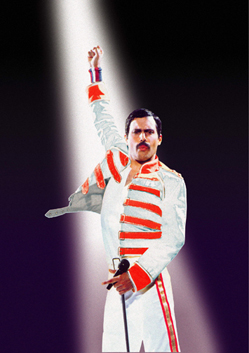 One Vision (Live)   

It's a Kind of Magic (Live)

We Will Rock You (Live)
"Killer Queen" present a fabulous "QUEEN" experience - the sound and the look, combined with the showmanship, pomp, style and incredible musicianship that was the hallmark of QUEEN in concert.
This stunning 4-piece band provide the most spectacular stage set up, stunning costumes and terrific special effects - just like Queen themselves!
Time Out described their lead singer's resemblance to Freddie Mercury as "Spooky" which, combined with a powerful 3 1/2 octave tenor range and dynamic stage presence, has impressed audiences the world over.
Their outrageous set spans Queen's entire recording career from the Seven Seas of Rye through to their Nineties classics.
Killer Queen formed in 1993 - their first public show was at London University, following in the footsteps of the real "Queen" who had played their first shows there 21yrs earlier. The band's reputation has continued to grow both in the UK and abroad. During their various careers, the band's musicians have worked with a vast array of artistes including: Roger Taylor, Brian May and Monseratte Caballe.
The band is equally at home performing at a corporate event or an arena show having much experience of both and if required can install fabulous multimedia shows with pyrotechnics, state of the art lighting design and screenwalls. Just let us know your requirements for your own event when you enquire.
Let "Killer Queen" Rock You with their own Kind of Magic at Your Event!