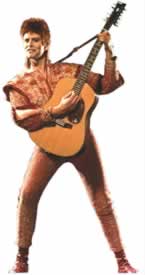 Jean Genie
The most authentic David Bowie soundalike you will ever hear. So much so that Jean Genie toured with Bowie's original band "The Spiders From Mars" as their frontman. You can't get a higher endorsement than that!
In the late 1990s he was approached by David Bowie's most famous band of the 1970s, 'The Spiders from Mars', and was asked by them if he'd front the band and tour with them. Obviously his answer was 'Yes' and to this day he remains one of only a few tribute artists to tour and perform with an original artist's band.
He has undertaken many press/radio and TV interviews, touring extensively around the world, playing the character of Ziggy Stardust for a number of years. He prides himself on the quality of his singing voice, mannerisms and overall style of David Bowie, many of his more recent performances have been with the famous 'Legends' show in Blackpool.