Paula Smith
Harpist & Singer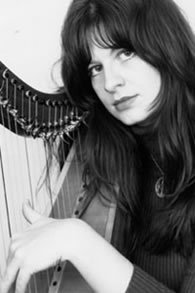 Classical - Queen of Sheba (1.99mb)

Popular - Fields of Gold (2.43mb)

Film/Show - Over the Rainbow (1.93mb)

Celtic - Roslin Castle (1.37mb)

Celtic - Star of Munster Gravel Walk (1.48mb)

A professional harpist and singer, Paula Smith is experienced at creating just the right atmosphere: whether for a large, formal reception, a small and intimate gathering or the performance of specially chosen music at a wedding ceremony.

She has toured Britain, Ireland and Australia, performing at hundreds of events including weddings, corporate functions, cruises, themed banquets, an intensive care ward and live television and radio. For eighteen months, Paula enjoyed a residency at the luxurious Gregan's Castle Hotel in the west of Ireland.

Every occasion is unique and Paula prides herself on providing an individual service, tailored to each client's particular requirements and preferences. Paula adapts her repertoire according to the client's taste and she offers two different harps to suit any occasion: for formal events, she uses a Classical Harp and, to honour events with an Irish, Scottish or Welsh connection, Paula will play a traditional Celtic Harp if desired.

Originally classically trained, Paula reads music fluently. However, she is also a natural musician, who was born with perfect pitch. This rare quality allows her to play music by ear effortlessly and she has often played special requests directly from client's recordings: ideal when there is no music score available.
Very few things are as individual as musical taste.

Some people are happy to leave the choice of music entirely up to Paula. Others will specify a preference for light and graceful classical music, uplifting and romantic popular songs or favourite traditional Celtic melodies.

Then, there are other people who have something very particular in mind. Paula will go out of her way to play unusual special requests and, possessing an exceptionally good ear, she often learns pieces direct from recordings supplied by clients.

Paula has a very good memory too and can play over four hours of music from memory. Most of the time she plays without music, allowing her to avoid the need for a music stand and unsightly piles of music books.