DEL & DEN
Cockney Act
Perfect for a Good Old Cockney Knees Up!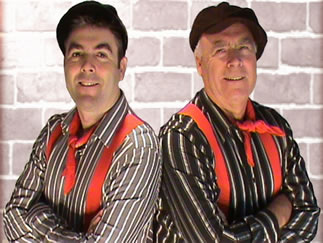 Del & Den are a Cockney duo who perform a 2 x 45 minute sets including a mixed Cockney sing along, Chas n Dave songs and 50s/60s/70s pop hits all in the 'Cor blimey' styles. The Cockney greats are included with My Old Man's a Dustman, Don't Dilly Dally and The Lambeth Walk, to name but a few. Also included in their repertoire are a number of rock and pop songs done in the Rockney Cockney Chas n Dave style.
The inspiration for Del & Den's 'Cockney Show' is drawn in part from the 'Rockney' style of Chas & Dave, the act who immortalised the duo's seaside home town with their hit song 'Margate', in 1982.
Two 'ex-pat' Londoners themselves, 'Del & Den' are now delighting audiences with their own 'Cockney Show' featuring their special take on many of the hits of Chas & Dave, as well as medleys of good old Cockney songs, and 50s/60s/70s pop songs, all performed with infectious enthusiasm, energy and good humour.
'Del & Den' have been around the music scene for longer than they care to think about. They are professional entertainers, having performed at home and abroad, in various guises, covering many different styles of music including American Country, Rock and Roll, 50s, 60s & 70s Pop, and of course Cockney songs, but it was their apprenticeship served in smoky East End pubs & clubs, that has now brought them full-circle back to their roots. Today 'Del & Den' are fast acquiring a reputation as one of the circuit's most entertaining Cockney acts, as they perform their show around the country at Clubs, Holiday parks, Private Functions and specially themed events!
The duo, performing in costume, on guitar & bass, along with the high-quality backing tracks they have professionally produced in their own studio, create a toe-tapping authentic 'Rockney' sound, complete with great harmony vocals and 'cross talk'!
They are fully self-contained, using premier quality, professional sound equipment and providing their own lighting and backdrop.

Cockney Medley

If it's a fantastic Cockney Night you want, this act is a must for you!