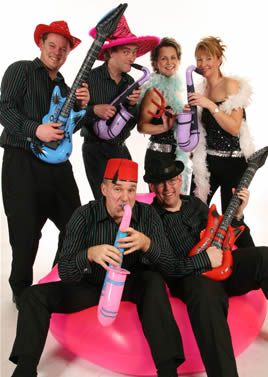 Ain't No Stopping Us Now

Higher & Higher
Whether your choice is Scissors Sisters or the Blues, the Sixties or Sinatra, Dancin' Easy have something for you!
Dancin' Easy is a powerful 6-piece function band with well over 12 years playing experience. 4 boys and 2 girls make up an exciting line-up of female vocals, male vocals/lead guitar, female saxophones/backing vocals, trumpet, bass and drums.
The great musicianship within the band allows Dancin' Easy to offer a wide and versatile repertoire to cater for all tastes and ages. From sixties rock 'n' roll to the Scissor Sisters, they've got it covered. The band can play a selection of pop, rock, funk, soul and disco guaranteed to get your party going and your dance floor full.
Strong female vocals, punchy brass and a driving rhythm & guitar section ensure each Dancin' Easy performance has power and energy.
If you're looking for a lively, powerful, versatile party band, look no further than Dancin' Easy. With their vast experience and state of the art PA and lighting system you can be sure to receive polished and professional entertainment.
Typically Dancin' Easy perform for a total of about two and a half hours in two or three sets with breaks in between, although other times can be arranged upon request. And don't worry about the breaks, they can keep the party going by playing their own carefully DJ'd CDs.
Dancin' Easy Reviews
"Thanks a million!! What a truly superb band you are!!! You really did "deliver the goods" ~ we loved the music you played ~so did everyone else too. You are true professionals."
"…excellent in every respect, the variety of music, instruments played, vocals and backing vocals, with many compliments expressed by the 230 members and guests … In fact, at times the dance floor had more people dancing than sat down, which is testimony in itself."
"The performance from Dancin' Easy was absolutely fabulous …almost everyone hit the dance floor immediately and stayed until the end of your session. Our guests from the age of 4 to 86 all danced to the range of music played by the band."