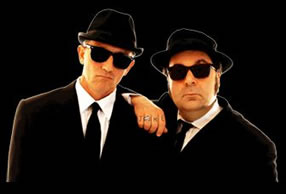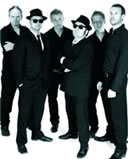 Everybody Needs Somebody Video

Who's Making Love Video
"The Briefcase Blues Brothers" is a fantastic, hi-energy act who always get the audience going. They perform all the classics with an incredibly authentic live, soul feel, recreating the energy, excitement and atmosphere of the original band and cult movie.
A truly flexible act, able to adapt itself to your space or budget restrictions, "The Briefcase Blues Brothers" can perform with a live band or as a duo in a playback situation with four line-up optoins to suit your individual needs:
JAKE & ELWOOD - THE DUO
If you're looking for something special for your party, or a theme for your event, "The Blues Brothers" is a perennial favourite. Jake & Elwood can make a personal appearance and entertain your guests with a lively an energetic show that can fit even the smallest of venues and budgets. They can provide a show consisting of up to 2 x 45 min sets, performing live vocals backed by professionally produced tracks.
THE 4 PIECE PLAYBACK BAND
If you want a bigger band with live musicians, but don't have a lot of space or budget, then the 4 piece playback band is an ideal option. Jake and Elwood are backed on stage by live Drums and Bass guitar, supported with professionally produced backing tracks providing the other orchestrations. This line-up can provide a show consisting of up to 2 x 45 min sets.
THE 6 PIECE LIVE BAND
If you want a fully live band then "The Briefcase Blues Brothers" can perform as a 6 piece band. With live Drums, Guitar, Bass Guitar and Keyboards backing Jake & Elwood, this line-up can react immediately to the audience's reaction, changing the set and song arrangements effortlessly to ensure that each performance is perfectly matched to each individual event. Made up of world class professional musicians, the band can perform up to 2 hours of material.
THE 8 PIECE SHOWBAND
For the full Theatre experience, the band perform as an 8 piece, adding live Trumpet and Saxophone to the 6 piece band. This complete line-up is the one that performs in theatres across the UK and is also incredibly popular with festivals, Gala functions and corporate events.
"the evening was an outstanding success.... the appearance of the Briefcase Blues Brothers made the evening. Please pass on our appreciation to them both for their stupendous performance. I would have no hesitation in recommending both Andy Nye Music Ltd and the Briefcase Blues Brothers"
"The Briefcase Blues Brothers were an absolute knockout...They got the whole audience rocking and filled the dance floor, they are a truly professional band and I would recommend them to anyone." - PA Keeble, Hampshire
"I have just had the most enjoyable evening...these boys put their heart and soul into this show and encouraged the audience to get up and dance, it was a real show to suit all age groups" - Brenda, Chelmsford