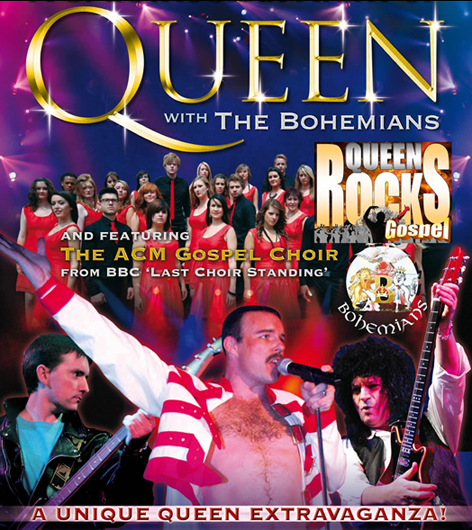 Queen Rocks Gospel - A Spectacular Night of Queen
with The Bohemians
& The ACM Gospel Choir from Last Choir Standing
This is a unique show featuring all of Queen's biggest hits performed in a way never seen before.
The live high energy Rock & Roll performance of Queen tribute "The Bohemians" blended with the passion, skill and greatness of The ACM Gospel Choir.
To sum up, this will be a unique Queen Extravaganza!
The ACM Gospel Choir is a musical collective of some of the most talented singers, songwriters and performers in UK today. With a great blend of voices from different genres, different continents across the world and different ages, the 'New Gospel' sound that they have created is very unique and one that is sure to enthrall its listener. Born out of a dream to harness this talent and use music, song and performance to bring joy, laughter, happiness and Good News to the world of music, the choir was formed in 2005 by Mark De-Lisser the choir's Musical Director.
During their journey so far the choir went all the way to the semi-finals of the BBC's "Last Choir Standing" in 2008 (watched by more than 20 million viewers) where they received worldwide acclaim for their power and passion on stage. Head judge Russell Watson described them as "Absolute Choral Magic".
The Bohemians, established in 1996, re-enact the glory days of Queen including the Craziness of the '70s and the Magic of the '80s proving themselves to be the most dynamic and exciting Queen Tribute Band currently touring.
They have performed all over the UK, Europe and the World at football stadiums, festivals, theatres and other prestigious venues. The Bohemians, in their majestic magnificence, receive standing ovations in response to their electrifying representation of a Queen Live Concert.

This high-energy, two hour show with full Staging, Lighting, Backdrops and Pyrotechnics will be a truly QUEEN Spectacular never seen before.

Imagine songs like Somebody To Love, We Are The Champions and the amazing award winning Bohemian Rhapsody being performed with the energy, passion and feel of the Bohemians and the ACM Gospel Choir together on the same stage. These hits are balanced with the Guitar led anthems like Tie Your Mother Down, Hammer To Fall, One Vision, I Want It All and We Will Rock You.
The Bohemians and the ACM Gospel Choir really create something truly special!l