The Bogus Blues Brothers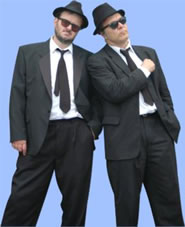 THEY'LL BLOW YOU AWAY!!

Gimme Some Lovin'

Sittin' on the Dock of the Bay

Mustang Sally

The band has been in great demand since its formation in 1991. Venues have included Grovesnor House, Royal Lancaster, Cafe Royal, Royal Hall in Harrogate, provincial theatres, universities, Bournemouth International Centre, Europe and New Orleans.

The Bogus Blues Brothers are Chris Clark & Michael Dimitri. Michael, who hails from the USA, has previously had starring roles in West End musicals. He played the King of rock & roll in "Elvis The Musical" & Gene Vincent in "Good Rockin' Tonite'".

They have worked for many well-known companies and organisations including ICL, ORACLE, The National Trust, Walkers Crisps, P&O, all branches of the Armed Forces, the USNavy, the John Lewis Partnership and British Airways. The band has performed at many prestigious events, including: The Bud Flanagan Ball and the rugby charity, The Wooden Spoon Ball.

The Bogus Blues Brothers is a high energy, very professional and extremely entertaining band for theatre, outdoor events, cabaret or dancing. The band's usual line-up is a eight-piece band. However, they can perform as up to a twelve-piece or even a self-contained duo (with fabulous backing tracks as "Blues Brother Soul Sister".)There is also an option to have two contrasting sets with "Boogie Heights ", and for an additional fee, they can also include our own discotheque.
Hang on to your hats & shades for the ULTIMATE rhythm 'n' blues experience!
Band Home for Bogus Blues Brothers
Back to Blues Brother Soul Sister