The Blues Brothers UK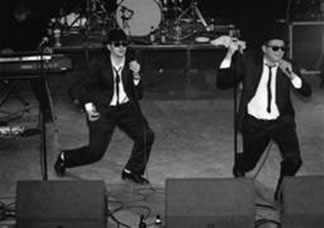 Gimme Some Lovin 6.03Mb

Everybody 6.07Mb

Tailfeather 5.51Mb
They're on a Mission from God!
The BLUES BROTHERS UK have chosen to accept a momentous musical misson from God: to rekindle the flaming soul power of Jake, Elwood and the incomparable Blues Brothers Band.
They are a tribute to the genius that was "The Blues Brothers". The band are huge fans of the film and the music. Formed in the late 80's and previously known as "The Blues Brothers Experience" they have toured here, there and everywhere, performing the greatest hits of Jake and Elwood Blues.
Their show pays tribute to the fun and havoc the brothers wrought wherever they went! The band comprises talented, professional musicians, dedicated to recreating the authentic sound and look of "The Blues Brothers".
Armed with a searing sonic arsenal of classic Stax, Tamla tracks and rampaging Rhythm & Blues, this eight-man music machine will mercilessly "Shake Your Tail Feather" and transport your very soul to their "Sweet Home Chicago".
Sporting the snappiest hats, sharpest suits and coolest shades, the Blues Brothers UK serve up a storming stage show featuring fun-packed, non-stop hits from the legendary cult movie. Complete with a crazy collection of dynamic dance routines, every slice of sweet soul music is performed to perfection by Jake and Elwood & their powerful, brass-led backing band.