Annabelle Westcott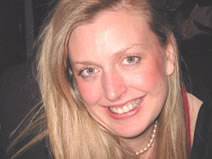 But Not For Me (2.98mb)

The Way You Look Tonight (2.55mb)

You Go To My Head (3.24mb)

An exceptional vocal artist, Annabelle Westcott has a remarkable repertoire of "Songbook" standards written by many of the great songwriters including Gershwin, Cole Porter and Rodgers & Hart, and has been influenced by Ella Fitzgerald, Doris Day, Frank Sinatra, Diana Krall and Stacey Kent.
Annabelle is herself a total romantic, and the songs she sings are timeless stories that touch young and old alike. She also likes to sing many of the more popular songs written by Burt Bacharach, Carol King and The Carpenters, to name a few.
Annabelle loves to entertain and invariably lifts her audience to make any event go with a swing. She is flexible and adapts her repertoire to suit the requirements of her guests depending on whether they want soft background music or lively music to dance to.
Annabelle mainly sings with a trio of musicians, piano, double bass/bass guitar and drums who form the Annabelle Westcott Quartet. She also works with smaller or larger groups depending on requirements. For instance she can provide a trio for smaller events or a larger 7-piece band including saxophone and trumpet for functions that require a bigger sound.