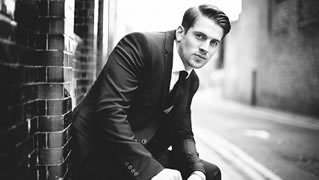 A Rat Pack Sensation!
Recreating the Sound of Jazz & Swing with Style and Panache!
Adam Chandler is a renowned wedding singer and vocalist and has been performing for this type of occasion for over 10 years. Setting the perfect atmosphere of class and sophistication, but, most of all, fun is something Adam does very well. Picture your guests chatting while they drink and eat listening to the background music of Rat Pack, Jazz, Swing and modern day songs we all love.
He delivers these classics in warm, mellow tones and, with a repertoire of over 130 songs from the Great American Song Book, he can guarantee something to suit everyone's taste. Each performance can be tailored to the client's needs; you can even choose every song if you wish.
Other options available:
The Swing Band: The swing band that have the ability to play Jazz and pretty much any other genre if music too. From Sinatra to Stevie Wonder to Bruno Mars Rhythm in blues play it all and they play it with style and class!
Musical Orphans: Known for really pushing the boundaries with song choices and image making sure that they keep their wedding set list fresh and the style of the band on point to impress. You can expect to hear tracks from greats such as Stevie Wonder, Prince, Kings of Leon and the Killers to the more modern Drake, The Weekend and even some old school Garage if you request it. Musical Orphans' standard line up is a 7 piece band, however this can be upgraded to a 9 or 10 piece band.
Modern Swing Band: The perfect blend of style and sophistication mixed with fun and surprise. Imagine listening to a swing version of Ice Ice Baby as you and your guests enjoy reception drinks on the lawn of your chosen wedding venue or maybe a Jazz version of No Diggity as you all tuck in to the wedding breakfast. The standard line up of Modern swing is a 6 piece band with the option of adding female vocalists and brass players where needed.
Acoustic Duo: The perfect option for those weddings or events where live entertainment needs to be slightly more low key, but still have the ability to get your friends and family to the dance floor without blowing the roof off the place.

Fly Me to the Moon (2.33Mb)

Moondance (3.98Mb)

Chicago (2.36Mb)

Have You Met Miss Jones (2.38 Mb)

Let There Be Love (2.53Mb)
If you want style & charisma brought to your event, Adam is a sure-fire winner!