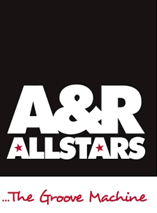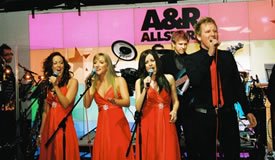 5-piece to 13-piece Party Band with the Hottest Hits!


Can't Get You Outta My Head 5.13Mb

9 to 5 3.98Mb

Just Dance 4.71Mb
The A&R ALLSTARS are a 5-13 piece groove machine featuring world-class session musicians playing from an extensive repertoire complete with PA system, lighting and sound engineer. Choose from their standard 5 piece line up – guitar, drums, bass & 2 vocalists or crank up the funk and maximise impact with their incredible brass section the High Definition Horns! The 13-piece line-up is their flagship corporate line up and includes staging, set and light. The musician line-up is a rhythm section of Drums, Guitar, Bass, Keys, Male Vocal, 3 Female Vocals, 2 Trumpet, Trombone, Sax & Percussionist.
A&R ALLSTARS has an enormous repertoire of over 300 classic tunes from the past five decades with a continually expanding programme to cover the hottest releases.
They've picked their favourite songs and added even more great tunes. Each and every note, hit and vocal of the original recordings have been painstakingly transcribed for the ultimate live experience!
They usually play for anytime up to 3 hours. Each set is unique to your party and will fit around your wants and needs.
The A&R ALLSTARS pride themselves on creating the ultimate bespoke entertainment for your event, no matter how big or small, and will develop a set designed around your requirements and preferences. If there's any specific song required they'll transcribe it for you! The show you see will be unique to you.
They can offer sets to suit the theme of your party, be that an era (60's, 70's, 80's etc.) or style (Motown, Indie, Classic Rock etc.). They also offer several Tribute sets featuring show tunes, Madonna, Michael Jackson, Abba, Queen or George Michael. Plus they're constantly updating their titles with hits from current artists such as The Killers, Kings of Leon, Lady Gaga, Rhianna, Beyonce and Florence and the Machine…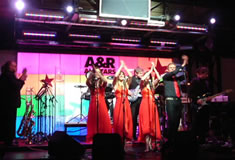 "Thanks once again for such a memorable evening's entertainment. You were all fantastic!!"
-Private Client
"The A&R Allstars gave a fantastic performance for my 50th birthday. I was impressed by the high level of professionalism, from the early set-up and sound check with a professional sound engineer some hours before the party, to the full three hour performance. All of my guests remarked just how good the A&R Allstars were, the covers sounded like originals, they were true to the artists. I would strongly recommend The A&R Allstars to anyone wanting a high quality and 'original' performance. The A&R Allstars are definitely the best, worth the expense and made my party rock!"
-Private Client
"Thank you and all the band for a great evening's entertainment. My client was over the moon with the band, the whole show was fantastic and everyone loved the song choices"
-Private Client
The tunes are cool, the vocals are hot, the band is funky. "A&R Allstars" will give your event the edge that you're looking for!